Tuesday, November 29, 2011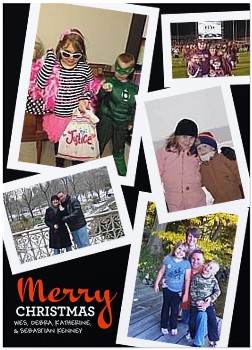 Vintage Snapshots Christmas Card

Posted by

Debra Kenney
at 12:52 PM
No comments:

Monday, November 28, 2011
Soon after the 2011 Aggie football schedule was announced and tickets were available for purchase, Wes purchased four tickets for our family to attended the
Texas A&M
vs
The University of Kansas
football game as my birthday present this year. We'd been excited about our first trip to Aggieland as a family for months.
Wes having lived in southeast Kansas while in high school is a KU fan, and I'm an A&M fan. Neither of us attended either of these schools as we meet while attending a smaller private Christian University; however, we still hold true to our state schools of choice.
We arrived in College Station, Texas, on Thursday night, November 17, 2011. *
We may have extended our trip by a couple hours after realizing about 60 miles down the road that the tickets for the game were still in Hurst.
On Friday we took a campus walking tour and visited the campus bookstore where we purchased some more Aggie gear. Game day Saturday was an awesome experience even with arriving half way through the first quarter because we didn't double check the game time. Apparently it was moved from a 2:30 pm kickoff to an 11:00 am kickoff earlier in the week. Oops! We finished off our Aggieland visit on Sunday with a visit to the
Bonfire Memorial
then the
George Bush Presidential Library and Museum
.
As we headed north towards home the kids wanted to know when we'd be back to Aggieland, and I was already wishing we had tickets to the A&M vs
Texas
game on Thanksgivng. It turned out I was able to secure us four tickets for the game on Thanksgiving and so we left our home around 11:00 am headed to College Station and Aggieland! This time all four of us were decked out in our Aggie gear, and we arrived with plenty of time for all the fun pregame activities.
Here is a photo slideshow of our two visits to Aggieland. Enjoy!
Posted by

Debra Kenney
at 2:30 PM
No comments:

Wednesday, November 02, 2011
Fort Worth Zoo
.
Katherine taking advantage of a hands-on exhibit.
Great State Fair of Texas
. We eat lots of good (& really unhealthy) food, walk A LOT, see many different exhibits, ride fair amusement rides, spend
money
tickets, enjoy time together, and leave incredibly tired.
I could be guessing, but I believe the reason the kids enjoy this exhibit so much is receiving the free snack they
purchase
receive at the end.
Dallas World Aquarium
with other local homeschoolers.
Dallas Stars
Education Day.
Texas Rangers
battle the
St.Louis Cardinals
in game six of
World Series
.
Posted by

Debra Kenney
at 2:21 PM
No comments: